Okay, after I pulled what my buddy Liz Maverick is affectionately referring to as the Big Red Lever I more or less cruised through Election Tuesday waiting for the evening's festivities to start. For me, said festivities meant a short subway trek out to Brooklyn where Megan Frampton of Risky Regencies fame and her husband, Scott, graciously agreed to host an Election Night party.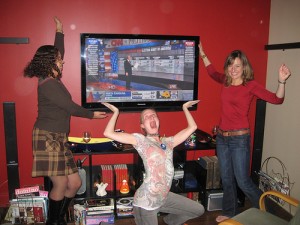 Now I like to keep this blog not only bipartisan but apolitical, unless of course you want to debate the latest trends–in shoes. Peep toe booty: fashion forward brilliance or cruel joke played upon those of us who actually have to uh…walk outside in actual snow?
In this case I can't dish on the fancy footwear because this being a roll-up your sleeves and plunk down on pillows on the floor kind of affair, most of us took our shoes off. So, I'll do what I do (second) best, dish on yes, the food!
The Freedom Fries were a tad soggy by the night's end, but the apple pie more than held its own. Fortunately we were all backing the same ticket, so no Humble Pie or crow need be served, and we could have our cheese sans the…whine. The Swirl cheesecake was Obama-licious and the McCain Fried Chicken was well, one tough old bird.
And yes, we partied like it was 1999 and then some!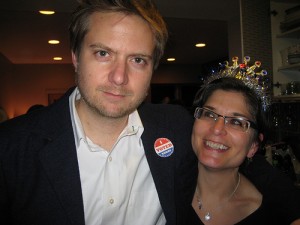 By the time mes amies Leanna Hieber, Elizabeth Kerri Mahon, Liz Maverick, and Elizabeth's visiting British friend, Simon, made it back into the city, it was well after three in the morning and yes, in my neighborhood, there was actual dancing in the streets, accompanied by "steel drum" playing on the newspaper stands. Tired but replete, we said our good nights and went our separate ways, joyous in the knowledge that the American Dream isn't a myth, not hardly.
Hope