Christmas and Hanukkah may be over, but you'd never know it around here. Many thanks to all of you who stopped by my guest blog and contest at FreshFiction. The topic was The One Who Got Away, the book was Every Breath You Take…Â and the conversation was lively to say the least.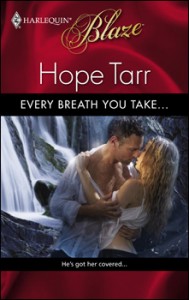 Congratulations to my three contest winners: Crystal B of Williamsburg, KY; Cindy M of San Diego, CA; and Jennifer M of Oklahoma City, OK. Your signed copies of my New Year's themed Harlequin Blaze Strokes of Midnight are on their way to you along with cover flat keepsakes for Untamed, the finale to my "Men of Roxbury House" trilogy.
And of course I always have my regular contest running here at the site, so if you haven't already, please take a moment to click on over and enter to win.
Hope
Ps Tomorrow, the 15th, I'll be blogging at The Pink Heart Society, so please don't be a stranger!