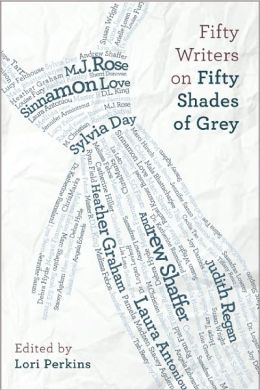 For those who've read the E.L. James' Fifty Shades trilogy, and admit it, you so have, at least book #1,you know that the erotic romance between fictional characters Christian Grey and Ana Steele definitely weighs in on the naughty side–fifty shades of naughty. Readers seem to fall into one of two camps: those who love the books and those who love bashing them. Regardless, the cultural conversation continues.
So now that you've read the book(s), how to keep the love–or hate–fest going?
FIFTY WRITERS ON FIFTY SHADES OF GREY (BenBella Books) is the brainchild of agent and publisher Lori Perkins, a savvy compilation of fifty "insider" essays examining various aspects of the Fifty Shades juggernaut. Contributors hail from erotic fiction, BDSM, fan fiction, pop culture and, of course, romance; the essays range from tongue-in-cheek humor to no holds barred detestation to steamy homage.
My essay, "Because Love Hurts," examines Christian and Ana's relationship through the dual lens of romance fiction and Freudian psychology, prominent aspects of my background and ongoing world view. Other contributors include M.J. Rose, Sylvia Day, Heather Graham, and publisher, producer, and radio talk show host, Judith Regan.
The plot twist at the end of Judith's essay is–well, as this is a PG-rated blog, you'll just have to read it for yourself but read it you must!  ((winking wildly))
FIFTY WRITERS ON FIFTY SHADES is available as both a print and e-book at brick-and-mortar bookstores as well as from  Amazon • B&N  • IndieBound.
Hope