For most of my adult life, I've lived by the mantra that we eat to live, not live to eat. That thinking served me in good stead–until I moved to Manhattan.
Food–gloriously good food–at all price ranges is available everywhere at all times.  At any given hour a good half of the pedestrians pushing past me on the busy streets are eating on the go. Once I saw a young woman, dressed to the designer nines, clicking down Fifth Avenue eating sushi. Okay, it was California Roll but still…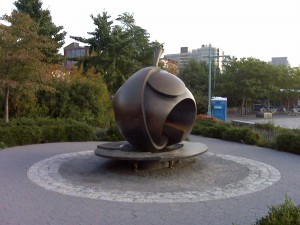 I've been playing gastronomic tourist since February–and grooving on every bite. Just as you can walk out your door and easily hear five languages other than English being spoken, you can step out onto most city blocks to a smorgasbord of cuisines from around the world. And if you don't feel like going out, you can get any or all of those diverse cuisines delivered to your door. It's well, pretty great.
I'm a seriously big list maker, and I have a food-to-try list just as I have a list for practically everything else. Topping my to-do's since moving here was to partake of yes, a cupcake from the West Village's Magnolia Bakery.  Sounds like a modest enough goal, right? If so, then you've never seen the line, which is usually not only out the door but wrapping around the corner and snaking up 11th Street. And yet the other day when I was walking home from my run at what should have been peak time, there was no line.  Nada. Peering through the storefront glass, I spotted two, maybe three, customers max.
My first thought was to ask what my fellow city dwellers must know that I didn't. Were we talking evacuation? Armageddon? A return trip by Benicio Del Toro with me missing him yet again?
Sure, even one cupcake would pretty much cancel out the previous 6+ miles of cardio pavement pounding.  Then again if "Rome" was burning, was this really any time to be carping over calories or denying myself yummy carbs?
The bakery was even running a promo special: buy one Pink Ribbon cupcake and fifty cents of the proceeds would be donated to a popular breast cancer charity.  Scarfing down that high calorie, high carb cupcake wouldn't just be physically satisfying.  It would be positively philanthropic! Social awareness blanketed in buttercream–really, does it get any better?
In the spirit of "an heir and a spare," I bought not one but two cupcakes: a red velvet number and yes, the special Pink Ribbon promo.  The red velvet one I ate like a true New Yorker, which is to say while walking home.  Only unlike the uber cool chick with the sushi, I couldn't pull it off. When I got home I looked like I'd been on the losing end of a paintball competition–assuming the game was played with pastry bags, not paint guns.
The cupcake was most certainly scrumptious.  Would I stand in line for it a really long time? Honestly, no.  But then at this point in my life there isn't much in the way of food for which I would stand in line barring catfood and that assumes my fur-babies were down to their last collective can.
Other good eats for this week include lunch at Tea and Sympathy, also in the West Village, where I caught up with writer buddy, Dee Davis. Being what I like to call a "recovering vegetarian," I'm not usually much for "British food," so I gave the bangers and mash and like menu options a broad berth.  Instead I opted for the "Tweed Kettle Pie," salmon and cod in a parsley sauce with a potato topping.  It was seriously delish.
And no New York City food report would be complete without pizza. One of my favorite stops is Amore's on 14th Street though on the service end, the staff is starting to royally pi** me off. Memo to the young lady working late nights at the register: if I'm ever going to cross over to the Dark Side and embark on a Life of Crime, I'm a lot more likely to knock off the Manolo Blahnik store across from the MOMA than I am to scam an extra eighty cent pizza topping. Really. Maybe you might want to reward a regular customer with a little trust rather than making "her" untape and open her friggin' pizza box every time like you're the guard tasked with making sure the Crown Jewels don't take a walk. If I say I ordered the white pizza, the one with the mozzarella only, then that's what I'm packing–period.
Eat and be merry,
Hope