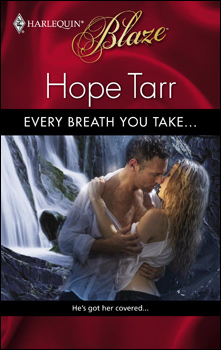 8.2.13: Congratulations to my two winners: Trudy Miner and Jess Mueller. Many thanks to all who entered. Contest is now closed. Please check back here for other giveaway goodness as well as my breaking good news. –Hope

As I sit here procrastinating on finishing edits for the final book in my Suddenly Cinderella Series, it strikes me that mid-summer can feel a little sleepy, even a little…dull.
To spice things up, I'm giving away *two* paperback copies (one copy per winner) of my back list Harlequin Blaze title, EVERY BREATH YOU TAKE. Set in steamy Belize, it's a perfect addition to your beach read pile. You can read a description and excerpt here.
To be entered to win, do any one of the following:
1. Like my author Facebook page
2. Like my Suddenly Cinderella Series Facebook page
3. Follow me on Twitter @HopeTarr
4. Provide the order confirmation for purchase of any one of my books, e-book or print, that you've bought within the last six months.
NOTE: To be entered, you must POST your proof of the above HERE, my website blog.
Two winners will be selected via random number generator. Giveaway ends 12 midnight ET on August 1st.
Happy Summer!
Hope