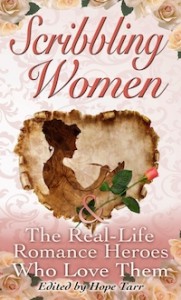 Last summer I got the idea to celebrate this Valentine's 2014 with a nonfiction anthology of romance authors, a sort of "Chocolate for a Woman's Soul" for the post-Millennium to benefit one of my favorite charities: Win. I floated the idea by some of my favorite fellow authors and, voila, what began as a seed of an idea blossomed into an actual book.
In Scribbling Women and the Real-Life Romance Heroes Who Love Them, twenty-eight romance fiction writers, one for each day of February 2014, reveal their real-life stories of how they met, wed and love—and are loved and supported by—their spouses and life partners. At times whimsical and laugh-out-loud funny, at others poignant and bittersweet, all unfailingly inspiring, each essay celebrates that most powerful and sacred of human bonds: love.
If readers take away just one message from our anthology, I hope it will be this: Happily Ever After isn't only the stuff of romance novels and fairy tales.
It is every woman's birthright.
ALL net proceeds from sales of the anthology support Win. Founded on February 14, 1983—yes, Valentine's Day—Win works to transform the lives of NYC's homeless women and their children.
Contributors include May McGoldrick. Katharine Ashe, Deanna Raybourn, Jacquie D'Alessandro, Leanna Renee Hieber and Lisa Renée Jones.  For a full list of contributors, visit our website.
Buy the book digitally from Amazon, Barnes & Noble or Smashwords for just $2.99. Or order a commemorative print edition for under $10.
The official Scribbling Women & the Real-Life Romance Heroes Who Love Them book launch will take place at the fifth anniversary celebration of Lady Jane's Salon, Monday, February 3, 2014 7-9 PM at Madame X.
Huzzah & Happy Valentine's Month,
Hope