Hi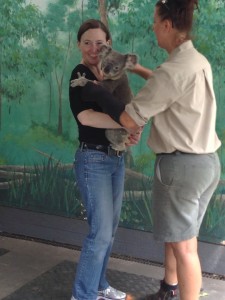 All!
I am writing this post from sunny Melbourne, the second stage of my Australian…progress. 😉
My tour started with the third annual Australian Romance Readers Conference, ARRC2013, in Brisbane where I was honored to present our first ever overseas Lady Jane's Salon. Four fabulous guests (Cathy Maxwell, Keri Arthur, Amy Andrews & Anna Campbell), an enthusiastic audience of more than 100 attendees, and a bistro style setting cleverly created by conference coordinator Debbie Jay et al. contributed to a rousing success. Read more about the Salon program here.
Following Friday night's Salon, I took off my co-founder cap and put on my author tiara. Panels and a book fair rounded out the week.
Around the conference, I managed to squeeze in trips to Carrumbin Wildlife Sanctuary and Mount Tambourine with fellow author, Cathy Maxwell. Cuddling koalas, hoisting wine glasses, and dining on Moreton Bay "bugs" (trust me, they're a delicacy) made for a spectacularly fun week. Many thanks to the delightful Megan Bamford for her extraordinary hospitality and hostessing skills.
Before leaving Brisbane for Melbourne, I stopped by the legendary Rosemary's Romance Books and visited with proprietress extraordinaire, Rosemary Potter.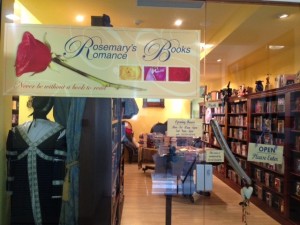 I've had the pleasure of seeing Rosemary stateside over the years, usually at RT BOOK Lovers conferences but catching up in her beautiful store was truly special. Wood paneled book shelves, a fainting couch, and myriad romance novels, all meticulously cataloged and shelved, had me wishing I might make a day of my visit rather than an hour. Along with a huge hug, I left er with a stack of bookmarks for my Suddenly Cinderella series.
Tonight I am meeting local author Alison Stuart for a candlelit ghost walk of Melbourne city. Boo!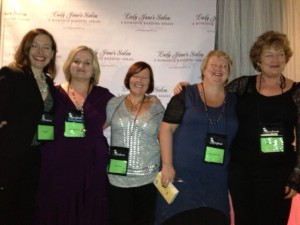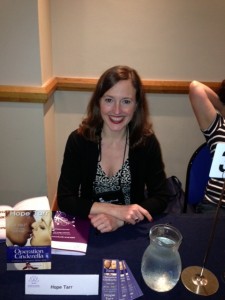 Next week, I depart for Sydney. Please stay tuned for an article on my Australian trip for the print version of RT BOOK Reviews magazine this summer.
Good'ay!
Hope