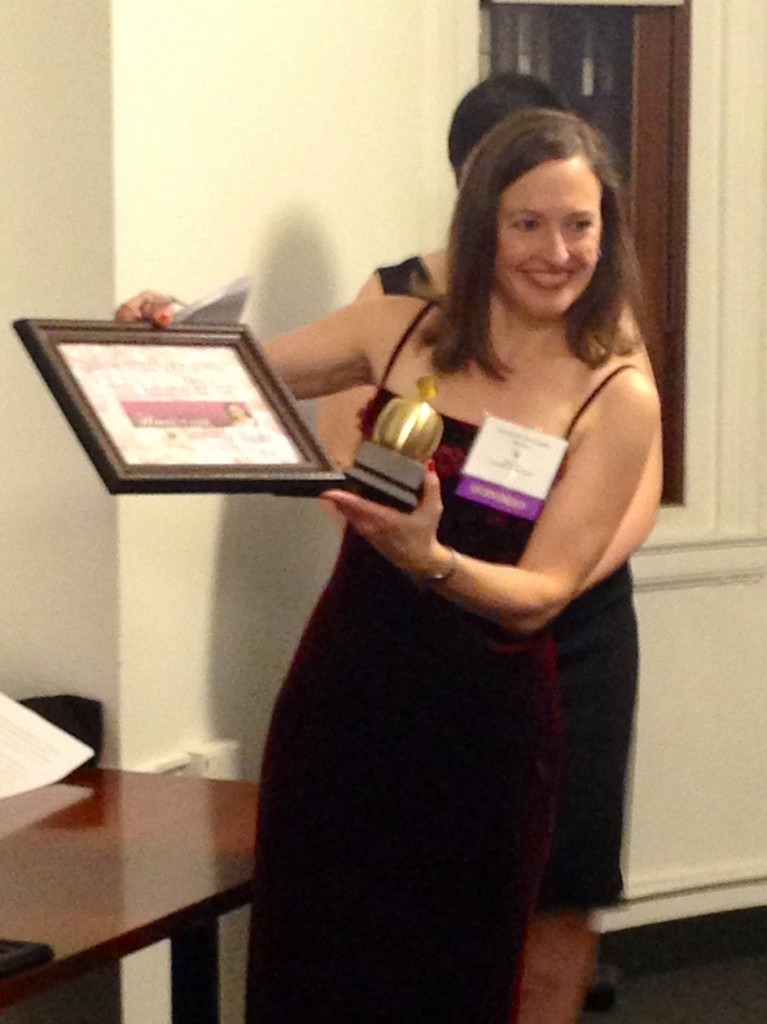 Last night was the Golden Apple Awards, the annual industry awards event sponsored by the New York City chapter of The Romance Writers of America. I was–and am–thrilled and honored to have been chosen by the membership as its 2013 Author of the Year. Below are the notes for my acceptance speech, which I managed to complete dry-eyed albeit verklempt.
A career of twenty years, thirteen as a published author, means there are many people to be thanked, so I may not be exactly brief  but I will be as succinct as these two pages permit.

First and foremost, I would like to thank my trio of fabulous agents:
To Louise Fury with whom I've been blessed to work since 2010. As some of you know, I first met Louise when she started coming to Lady Jane's Salon® in our early days and at the time I had no idea she was even agenting. It took me a while but I finally cottoned on. Elizabeth Mahon and I took her out for "a" drink to celebrate a significant deal she'd made, one drink turned into many drinks, and then next thing I knew she was asking me about my books. I'll never forget her saying, "I don't know if I can sell it—but I'll try." By 1:00 AM I was back home emailing her the files.
Louise has done considerably better than "try." She has since sold THREE series for me, including my hard cover debut, SUGAR, co-written with Jenna Jameson, which releases from Skyhorse Publishing this October 21st. And that's not even counting the foreign and audio deals she's made—all while fielding my many, MANY daily emails, on which I usually forget to change the subject header. Honestly, Louise, I can't imagine being in this business without you.
To Lori Perkins who wears many hats—make that tiaras—not only as the founder and owner of the enduringly successful L. Perkins Agency but also as a writer and publisher. As you know, Lori launched Riverdale Avenue Books last December and she hasn't stilled since. I don't use the word "maverick" often or lightly but Lori is truly that. Lori doesn't follow publishing trends, she forecasts them. She has brought so many publishing opportunities my way these past years, including but in no way limited to a place in her 50 Writers on 50 Shades of Grey anthology and for those and her friendship, I thank her.
To Jenny Bent, our Agent of the Year, who launched my career back in '99 by selling my Regency-set historical to Berkley. A Rogue's Pleasure was a first romance sale for both of us—and as they say you never forget you first. I was with Jenny through three agencies, and was so proud of her when she went out on her own and founded The Bent Agency, which has added a London office to its home base of Brooklyn.   
To the talented editors with whom I've had the pleasure of working over the past 13 years and counting: Cindy Hwang at Berkley, Brenda Chin at Harlequin, Helen Rosburg at Medallion Media Group, Angela James at Carina Press, Stacy Cantor Abrams at Entangled, and now Jenn McCartney at Skyhorse Publishing. I've done 25 books and each has been made inestimably better for your talented input.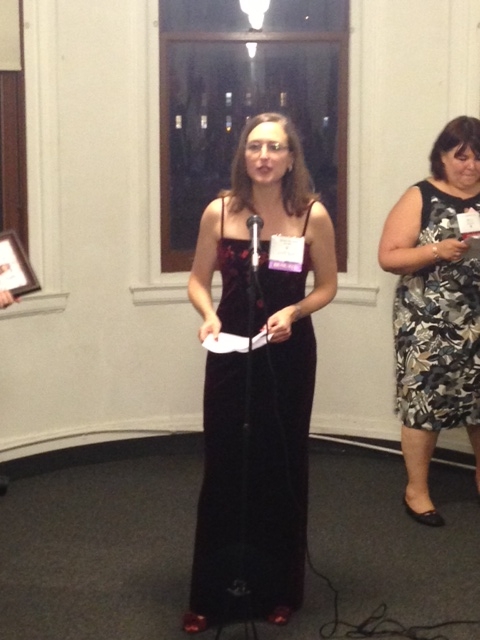 To the uber talented former O Magazine senior editor, memoirist and now romance author, Suzan Colon for being my friend, supporter, and creative sounding board. Our lunches are not only a treat to which I look forward but a grounding point for me personally and professionally. I am so looking forward to you reading BEACH GLASS at the February Lady Jane's Salon.
To RWA NYC for your enduring support, friendship, and encouragement. When I moved to New York in the winter of 2008, I knew ABSOLUTELY NO ONE. Attending that first Saturday chapter meeting was akin to grabbing hold of a lifeline. I met both my Lady Jane's co-founder, Leanna Renee Hieber and past president, Elizabeth Mahon at a chapter outing to Coney Island. Others of you I've gotten to know through additional chapter events such as the winter holiday and spring brunches, the online loop, and of course your glorious and enduring support of Lady Jane's Salon. To Maria Ferrer and Lise Horton and Sarah Tormey and Kwana Jackson…well, I don't have time or breath to name each one of you but please know that your support, of me, my books, and m/our Lady Jane's Salon these past five years means more than I can say.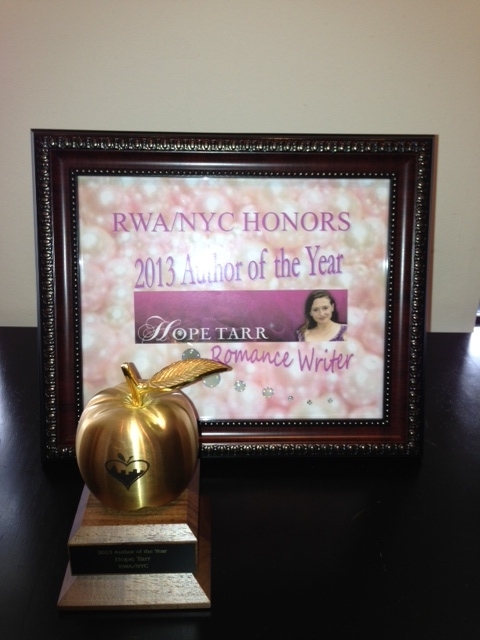 Last but in no way least, to my wonderful and always supportive partner, Raj Moorjani, who daily affirms that Happily Ever After isn't only the stuff of romance novels—we can have it in Real Life, too.
This is an enormous honor. Thank you!