Last night's Lady Jane's Salon celebrating co-founder Leanna Renee Hieber's debut novel, The Strangely Beautiful Tale of Miss Percy Parker was quite possibly our biggest crush yet.
The upper room of Madame X was crammed with attendees. Even before the program began, seating was once again standing room only–and barely that.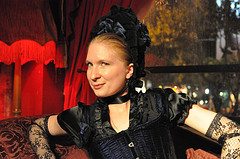 PRISM award winner, special guest Isabo Kelly kicked off the program by telling the story of how she and Leanna Renee first met in a New York law office followed by a wonderful reading of her work.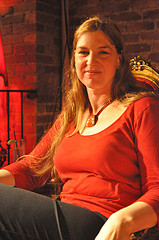 Leanna Renee was pretty as the proverbial picture in an authentic Victorian gown and bonnet done up in what we're fast coming to think of as "Strangely Beautiful" blue.
The Salon and signing ended at 9:00 PM but guests lingered afterward including we four founders who took time out to mug for the camera–and yes, congratulate ourselves on yet another successful salon night.
Lady Jane's Salon meets on the first Monday of each month from 7-9 PM at Madame X. Proceeds ($5 at the door or one gently used paperback romance novel) support Share the Love.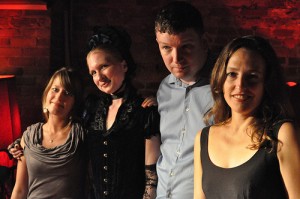 Guest authors for October are USA Today Bestseller, Kathryn Smith and award-winning young adult author, Marianne Mancusi. As they say, stay tuned…
Hope