I'm back from Albany, NY and the first annual Empire State Book Festival. Sponsored by the New York Library Association, the festival brought together librarians, book lovers, and writers to celebrate our favorite things–books. The kickoff was the cocktail and dinner gala on Friday night where literary legends James Baldwin, Edna St. Vincent Millay, and Edith Wharton among others were inducted into the First Annual Writers Hall of Fame. Noshing on appetizers, I got to hear Baldwin's niece recount poignant childhood memories of "Uncle Jimmy" as well as meet lots of lovely new-to-me writers, including fellow New Yorker, memoirist Alice Eve Cohen, author of What I Thought I Knew. (Note–a gorgeous book, darkly humorous and yes, wrenching).
Saturday's day long program at the Empire State Convention Center was back-to-back busy.  In addition to attending the workshop events and browsing the exhibits, I sat on a panel, "Under the Covers: Modern Romance." Dissecting the genre and the market with fellow panelists Lisa Dale, Kellyann Zuzulo, and Jackie Kessler was way cool and, bonus, our moderator was my buddy and Lady Jane Salon co-founder, Ron Hogan.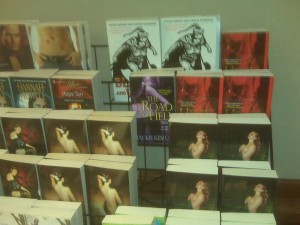 I wrapped the day with an author meet-and-greet where I signed copies of my "Men of Roxbury House" trilogy books and Twelve Nights. Then it was back to the hotel for a glass o' vino and dinner before tucking into bed.
As for the "Second" annual Empire State Book Festival, count me in!