Victorian Christmas Goodness!
This month, I read my Victorian Christmas novella, Tomorrow's Destiny at Lady Jane's Salon, the Manhattan, NYC reading series I co-founded back in ((gulp)) 2009. Like the Dickens' classic from which it draws inspo, Tomorrow's Destiny is a paranormal Christmas story. Only instead of ghosts, I have guardian angels. Guardian angels masquerading as the Spirits of Christmas Past, Present and Future. One in particular, Fern, needs to score a h-u-g-e HEA for her human ASAP — or wait another hundred years for a shot at winning her wings. And in lieu of a mean-spirited, bent-back miser hoarding gold, I have my Scrooge-like heroine hoarding the best thing ever — books!
Yes, you read that right. My heroine, bookshop proprietress Fiona MacPherson, IS the Scrooge character. 'Tis almost 2021, after all.
Watch my reading here on Youtube along with those of Salon guests Rose Lerner, Stacey Agdern, Harper Miller, Cara Bastone and Piper Huguley.
My intro and reading start at 38:10 minutes into the video.
You can get the Tomorrow's Destiny novella as an ebook and audiobook, the latter voiced by my uber talented Salon co-founder, author Leanna Renee Hieber.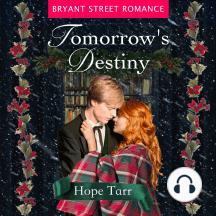 This December's Lady Jane's Holiday Salon program is both deeply special and bittersweet. After twelve magical years as NYC's first and only regular reading series devoted to romance fiction, we're drawing the curtain on our beloved naughty red room at Madame X.
All our virtual Salon programs will continue to live online on Youtube and on the Lady Jane's website. Please remember our wonderful house charity, Win (Women in Need, Inc.) in your end-of-year charitable giving.
Wishing you and yours a happy, healthy and safe holiday season.
XO Hope