I'm just back from the RT BOOK Lovers Convention in Columbus, OH, exhausted but still beaming with conference goodness. Personal highlights include Heather Graham's Vampire Ball where costume peeps from Victorian widows to dagger-stabbed ghouls strutted their stuff; the Saturday afternoon book fair where I got to meet fabulous readers as well as literally hundreds of other authors; and of course our Special Lady Jane's Salon Event with guest authors Sabrina Jeffries, Linnea Sinclair and Delilah Marvelle. Bonus: an impromptu shout-out for donations for local no-kill cat rescue group, Purr Babies, brought in more than $150 for this labor of love and all-around good cause.
I've said it before and I'll say it again: the romance community rocks!
Thanks to our guest author, Delilah Marvelle, who got the giving rolling by donating ten copies of her fabulous release, Lord of Pleasure to the first ten givers. Ditto to the RT staff, especially web wizard, Morgan Doremus, for scaring up not one but two more bags of books so that every attendee who donated to Purr Babies could receive a book as our thank you. Also, thanks to former Lady Jane guest author, Louisa Edwards, for the donation of the lovely take away champagne flutes in celebration of her latest release, On The Steamy Side.
Special sloppy cyber hugs and yes, kisses go out to conference coordinator, Jo Carol Jones, who personally supervised the putting out of shimmery red table clothes, the lighting of candles, and yes the pouring of champagne, all of which transformed the Hyatt's Peppercorn Lounge from hotel event room to a very Lady Jane-like boudoir.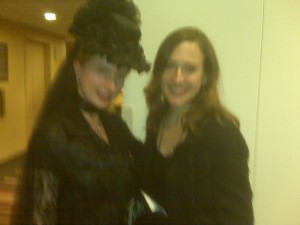 I could go on (and on) but I'll stop there with a reminder that the goodness didn't end with my plane trip home to Big Apple Landia. Tonight, Monday, May 3rd is our regular monthly Lady Jane's Salon here in Manhattan at Madame X, 7-9 PM. As always, admission is $5 or one gently used paperback romance novel to be donated to New York City groups serving women in need. We have the usual great lineup of guest authors: YA urban fantasy author, Jeri Smith-Ready (Shade); Christina Britton Conroy (One Man's Music); and Lady Jane Salon Co-Founder, Victorian paranormal author, Leanna Renee Hieber (The Darkly Luminous Fight for Persephone Parker, Book #2 in "The Strangely Beautiful" Series).
Giving back–it's a good thing!
Hope