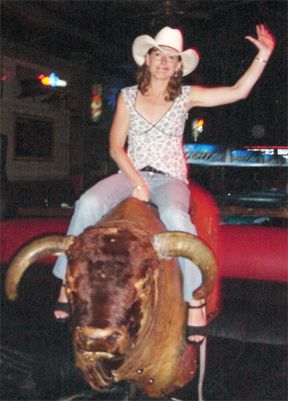 Deadlines kept me planted in my writer's chair during this year's Romance Writers of America national conference held in Atlanta. Joining in the fun vicariously via Facebook and Twitter–the Literacy Book Fair, the hotel meetups (translation: lobby bar), and of course the Awards Gala–sparked my memory to fond recollections of previous conferences.
At the 2007 RWA held in Dallas, I was invited to be filmed with Kathryn Caskie and a few others as part of fellow author Sophia Nash's "Girls Gone Wild" segment for Romance Novel TV. Our ladies' night began with a limo ride from the hotel to Cowboy Red River Saloon. There, before rolling cameras, we received a quick-and dirty lesson in the Texas two-step courtesy of two Stetson wearing local swains, downed jalapeno margaritas, and braved the mechanical bull ride. (Note: imbibing the margarita before the bull ride was absolutely essential. Also note: save margarita #2 for celebrating your successful or not so successful descent). Think Debra Winger in "Urban Cowboy" only–hint–you can adjust the speed. Not only did I keep my seat for the full time, but I had so much fun that I just may take a repeat ride. Maybe. Possibly. We'll see…
For now, check out these fun photos and Tips for How to Ride a Mechanical Bull. Most double as excellent advice for staying the course in life, too. I particularly like: Remember to Wear Pants.
Wise words…
And please check back here on my blog for additional Blast from the Past posts as well as giveaways, book updates and my all 'round good news–the only kind I post.
Hope