"What a lady, what a night…"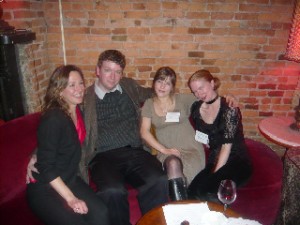 So the classic rock song goes and likewise so went last night's launch of Lady Jane's Salon, Manhattan's first (and so far only) reading series devoted to romance fiction. The series, founded by Ron Hogan, Maya Rodale, Leanna Renee Hieber, and Moi benefits Share the Love, which reaches out to groups assisting women-in-transition build independent lives.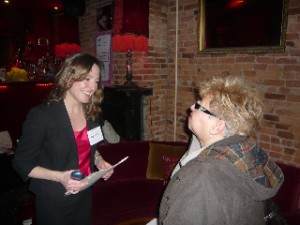 Forty or so attendees packed the elegant Victorian-inspired salon setting of Madame X in Tribeca. Distinguished guests included Carol Stacy, Publisher and Liz French, Managing Editor of Romantic Times BOOKReviews; Maria Lokken and Marisa O'Neill of Romance Novel TV; and Barbara Vey of PW's uber popular blog, Beyond Her Book. Also on hand to clink glasses was Scandalous Women blogger, Elizabeth Kerri Mahon.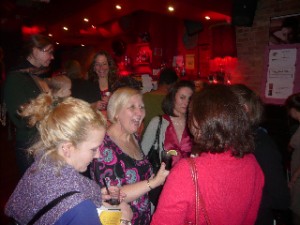 After a cocktail meet-and-greet, Ron took the stage as emcee to introduce Share the Love and Lady Jane co-founder, Maya Rodale. Maya spoke briefly and eloquently about her one-year-old organization's mission to distribute gently-used romance novels to groups assisting women-in-transition, such as Women in Need (WIN), a domestic violence shelter located in Manhattan.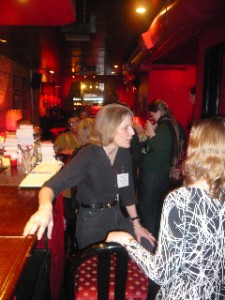 Award-winning author, Andrea Pickens got the party started by reading from The Scarlet Spy, the latest in her Regency-set historical series about a plucky group of young women trained as espionage agents. After a short break, during which Andrea and I signed our books, I read from Every Breath You Take…,my latest Harlequin contemporary release.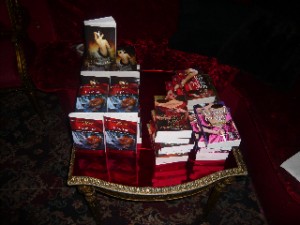 Last but not least, we made money for the cause as well as collected a cache of fabulous romance novels to be distributed to women working to achieve their own Happily Ever After beginnings. If that's not sharing the love, I don't know what is.
Next month's Lady Jane's Salon will take place on Monday, March 2nd, 7-9 PM at Madame X with romance authors Lauren Willig and Jenna Petersen as our guest readers. If you're in Manhattan or passing through, I hope you'll consider putting Lady Jane's on your calendar.
Hope