I'm coming off a solid weekend–seriously solid. Even better, it started early, on Thursday when I met up with fellow Harlequin author Wendy Etherington for drinks and then a Nascar-sponsored concert at the Hard Rock. Wendy writes for Harlequin's Nascar-themed series, and she rolled into town to take part in the Nascar cross-promotional festivities, including a book signing. What I know about Nascar, about racing period, could fit into a thimble with room to spare. Fortunately for me Wendy is a fab teacher, and I'm a quick study. And having music mega-star Gavin DeGraw play a private concert for Nascar royalty and well, us in the Hard Rock's auditorium while we stood stageside was well, way cool.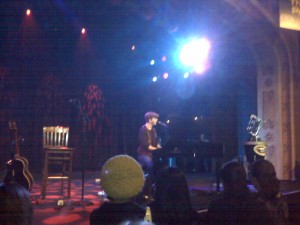 Next stop on the Fun Train: Kennedy's, an iconic Midtown Irish pub and restaurant, for Romance Writers of America/NYC's annual holiday brunch. Over eggs and mimosas, I caught up with Scandalous Woman and outgoing RWA/NYC prez, Elizabeth Kerri Mahon, Dee Davis, and others, including one member's adorable four-month old baby, Jack.
A quick refresh, including "costume" change, and then it was back out to the Upper West Side's Dive Bar for bookseller buddy, Stacey Agdern's birthday. The putin–a heap of fries layered with gravy and topped with lots of gloppy good melted cheese–was delish and the cosmo wasn't bad, either.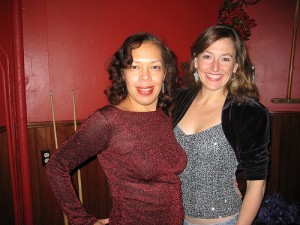 I departed the Dive Bar with the Rebels of Romance, Liz Maverick and Marianne Mancusi amidst the season's first snow. Even wearing open-toed platform pumps–what was I thinking?–I found myself getting caught up in Liz's winter wonderland enthusiasm. Still, by the time we reached our next stop, The Brass Monkey in the uber trendy Meatpacking District, I was more than happy to settle inside, have a drink, and thaw.
Soon it was time to move on again to the signature event of the night, The Bowie Ball at Santos Party House in Tribeca. Named after glitter rock legend David Bowie, the ball is an homage to the 1980's music and fashion scene. Between sets of classic 80's dance tunes, we took in the stage show where drag queens, retro bands, and burlesque dancers literally rocked the house.
Today, Sunday, I dialed it down a notch and attended the New York Public Library's holiday open house. The library is always lovely, but decked out in holiday splendor it was positively breathtaking. Face painting, puppet show, stilt walkers, and costumed actors kept kids of all ages thoroughly entertained. Music provided by groups such as the Brooklyn Youth Chorus and a Santa suited brass band put us all in the holiday spirit.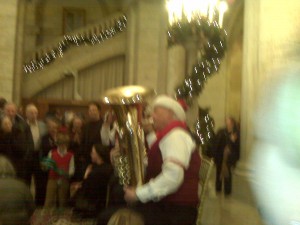 On the way home, I squeezed in some not-so-early Christmas shopping and then stopped in at one of my favorite restaurants for a glass of vino and a bowl of lobster bisque. Finally it was home again where hungry cats and neglected fictional characters awaited me.
What cool stuff did you do this weekend?
Merry merry, happy happy,
Hope