Earlier this month, I had the profound privilege of hearing award-winning actor, director, and yes, writer, Alan Alda address a membership event at The New York Public Library. I've been a fan of Mr. Alda's since his eleven-year stint as wise-cracking, martini-mixing, soul-searching surgeon Benjamin "Hawkeye" Pierce on the iconic television series, M*A*S*H. (For any kiddies out there, MASH stands for Mobile Army Surgical Hospital–okay, my job is done).  The show lasted longer than the Korean War on which it was based, and yet I still remember filling up during the final episode in yes, 1983, because eleven years didn't feel like nearly enough.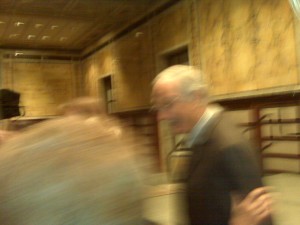 Mr. Alda's two memoirs to date are NEVER HAVE YOUR DOG STUFFED: AND OTHER THINGS I'VE LEARNED and most recently, THINGS I OVERHEARD WHILE TALKING TO MYSELF.  The latter raises the question, "What makes a meaningful life?" The book, which I'll admit I haven't read–yet–is now topping my to-buy list or my Christmas wish list, take your pick.
In the course of his hour chat–and yes, it felt like an interactive conversation, not a lecture–Mr. Alda relayed his near death experience five years ago during a vacation trip to Chile. I won't go into grizzly details–like me, you can read the book. Basically while he was touring Chile, he was seized with sudden, terrible abdominal pains and rushed by ambulance to the nearest hospital, which happened to look a lot like the set for the field hospital in M*A*S*H. He easily could have died. Obviously he didn't. Ultimately his life was saved by a canny, skillful surgeon who correctly and quickly diagnosed the problem and working under, by Western standards, very primitive conditions, fixed it.
The experience, however, left the actor not only asking, "What makes a meaningful life" but with a living-in-the-present focus that is truly delightful and dazzling to behold. Apparently this…immediacy, for lack of a better word, is common among many people who come close to dying. For most, though, the feeling gradually wears off. Not so for Mr. Alda.
After the lecture, he opened the program to questions from the audience. Johnny on the spot at microphone #1 was a pint-size lady with the demeanor of a flame-spewing dragon and yes, the mouth of the lion that roared.
"I was a fan of your father," she began–and yes, she likely was a contemporary of Robert Alda, too. "But I wonder about these celebrities today who use their celebrity status to tell us all what to think and how to vote and how to act as though we need them to tell us how it is…Blah, blah, blah…Yada, yada, yada… And well, I'd be very interested to hear your thoughts." (Note: Her invective was a lot longer and a lot nastier, but I'm summarizing lest my hand cramp).
Now, Mr. Alda's political beliefs and past activism, including his ardent campaigning for the Equal Rights Amendment, are matters of public record. I have my opinion about all that and yes, I'll leave you to yours. What I will say is that if you're going to a) invite a person to speak to your organization and then b) spend your own good money to attend said speech, insulting your guest is just well, damn bad manners. And memo to the "lady" of whom I speak, madam just because you were hatched when dinosaurs walked the earth doesn't automatically make you wise. And FYI, we came that night to hear "Life According to Alda," not life according to you, so next time mind–or better yet, close–your crochety yap.
But back to Alan Alda.
Obviously Mr. Alda has put on some years since his MASH days. Then again, so have I. And yet that smile, that sparkle in his eye, that lance straight stance and yes, that wonderful voice are still there in full force, the essence of a man who not only lives in the moment but has given so very many of us so very many moments that are truly memorable. 
Hope
PS: And yes, I had a Fan Girl moment. Shaking his hand at the evening's end was as close to weak kneed as I've come in well, some time.
PPS: Next time, as promised, "Girls Just Wanna Have Fun…"