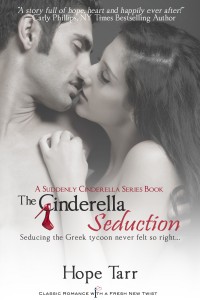 1.6.14 Congratulations to Brandee Price, the winner of my blog tour grand prize: a $30 Amazon or Barnes & Noble gift certificate. Thanks to all who entered and helped to make my release month+ so special with your Tweets, Facebook posts, Goodreads adds etc.
Please stay tuned for my next round of giveaways (coming later this January '14). For now…
Happy 2014! Hope

It's Release Day for THE CINDERELLA SEDUCTION, the finale to my Suddenly Cinderella Series with Entangled Publishing. Let's celebrate!