August is typically a Dead Zone month here in Big Apple Landia, but you'd never know it from the turn-out at last night's Lady Jane's Salon. Yes, we had another packed house and great, diverse readers as per always.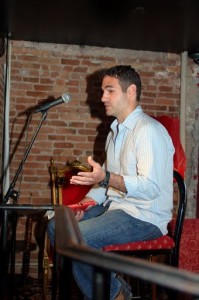 Boston Globe features writer and author, Johnny Diaz came down from Beantown to read from his latest contemporary release, Boston Boys Club, which he dubbed as a gay version of Sex and the City–think romantic, poignant, and yes, delicious!
Local author Anna DePalo read from her Silhouette Desire, The Billionaire in Penthouse B, showing us that "housework" can be fun but "mistresshood" far "funner"!
Last but never least, the lovely Delilah Marvelle fogged up the windows by reading from her wickedly humorous Lord of Pleasure in a (very authentic sounding) British accent, no less. And FYI, can that lady ever rock white satin and feathers!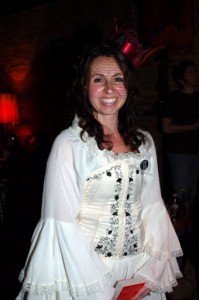 Distinguished attendees included faces both familiar and new including powerhouse literary agent, Donald Maass; Scandalous Women blogger, Elizabeth Kerri Mahon; bookseller and reviewer, Stacey Agdern; blogger, Kwana Jackson; RWA/NYC prez, Karen Cino; and Rob DiCaterino, Web Manager for RT BOOK Reviews.
Up next month at Lady Jane's: Salon co-founder, Leanna Renee Hieber debuts The Strangely Beautiful Tale of Miss Percy Parker–wearing full Victorian regalia, no less. Don't miss it!
Hope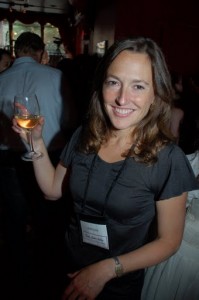 PS: You Alert Readers out there may have noticed that our photos for this month's Salon come courtesy of the uber talented, Biz Urban. In the next month or so, look for updated publicity photos of yes, me, all taken by Biz. And bonus: I'm going to get my courage up and my Jamie Lee Curtis on and pose for before and after shots…emphasis on the before as in before the makeup goes on. Yes, you'll be treated to a behind the scenes gander at me and just me, as God made me–well, plus a few decades added on. Should be most…revealing.