Congratulations to my mid-April contest winner, Amira H of Humboldt, Nebraska. Amira's prize package, a signed copy of Strokes of Midnight, my contemporary Harlequin Blaze and Vanquished,the launch to my historical "Men of Roxbury House" miniseries, is en en route to her "as we speak."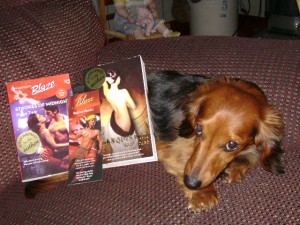 Here at hopetarr.com we pride ourselves on promoting compassion for all creatures great and small. "Animal-friendliness" is a big part of the brand for my books. I'm happy to report the critters are reciprocating in kind! Please savor these photos of Daisy Jane, the four-legged companion of my mid-March contest winner, Rachael G of Cairo, MO. Check out Rachael's blog for more photos as well the dish on her latest reads.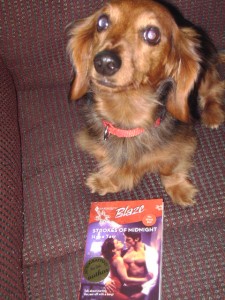 Didn't win this time 'round? Dinna fash as my Scottish historical hero, Ewan Fraser of Bound to Please would say. I'm offering the same great prizes through June, so if you didn't win, there's still time to head over to my Contest page and try your luck again. Someone's gotta win. It might as well be…You.
Hope