Last August, I had the pleasure of spending the day posing for new publicity photos with photographer, Biz Urban. Whether shooting outside in the sticky August heat or in the air-conditioned indoors, Biz was creative, professional and unflappable. I was so impressed, both with Biz and the final result–gorgeous publicity photos that still look like me–that I ran a trio of blog posts ("The Nekkid Truth") detailing my transformation from author girl to glammed up goddess…or something like that.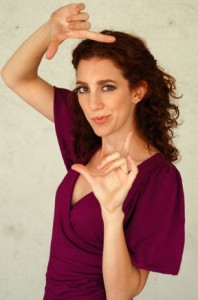 Recently I caught up with Biz, who kindly consented to answer my interview questions.
In publishing we say, "the writing is in the rewriting." Similarly, the "art" of photo editing/refinishing seems every bit as essential to a great final product as capturing that winning shot. Without giving up any "trade secrets," how do you go about steering clear of overly plasticized perfection while conveying a polished yet natural look?
I pride myself in getting photos that still look exactly like the person that walked into the room.  As an actor, myself, I understand how important it is to have a photo that is a true representation of yourself.  The client wants to know that the picture they see if the person they are going to meet.  So when I approach photo retouching (which I totally agree, Hope, is 99.9% vital to making a good picture great) I stick with the bare minimum.  Do I see hair out of place?  Is there some laugh lines that can be softened?  Not, wow, that dude's nose could stand to be a little smaller.  The retouch should only enhance what already makes you you.  When you see someone in person, you don't notice the lines at their mouth, or a hair that is stuck to the side of their face, those things become much clearer on a still photograph.  So I remove only what is standing in the way of making the best you come through.

One of the things that struck me during our photo shoot–and folks, we shot for like five hours both indoors and outdoors in the August heat–is how patient, dare I say unflappable you are. And as I've confessed several times now, I am most definitely a blinker. For every keeper shot we got, we easily tossed out 3 or 4 bloopers. Without naming names, of course, would you be willing to share one of your more difficult client moments?
Thanks Hope, but when it's what I love to do and I get to work with one of my favorite creative people, that day was easy and so much fun!!  I do have a story that to this day I still cringe…  When I was just starting out as a photographer, I met up with a client, a young woman, who had been a referral.  We had never met before.  She arrived and was blinking in one eye, apologized and explained that while curling her eyelashes with a eyelash curler, she accidently pulled out most of the eyelashes on her left eye.  Needless to say I told her we should reschedule.  But she insisted, she was FINE.  Oh lord, she wasn't.  It was a long 1 hour.  And a few weeks later, she called me up and said that her friends said she looked funny.  Ummmm… yep.  I learned my lesson.  If I feel like there is a dynamic that is going to throw the shoot off, I insist on a reschedule.  I want you to look and more importantly, feel your best.

What makes a successful shoot for you?
The most important part of any shoot for me is someone who is up to have a good time.  I like to make my clients feel comfortable and I want the shoot to be as painless as possible.  If you are open and know that I'm there to help you and not murder you with my camera, we'll be okay.  I adore shooting outdoors, which, when I shoot in NYC as opposed to LA can be tricky.  So a beautiful, slightly overcast day with some clouds in the sky, I'm a happy gal.
 
In looking at my photos, both the original and retouched versions, I really felt like you "got" me, not just my image but my spirit. When photographing human subjects, be it for a publicity or family photo, what are your goals? What do you strive to convey?
My goal is to give you a shot that is a great representation of you.  Sometimes your photo is the only thing people see and so it is so important to make sure it is you, in a way, telling the story of you.  In your case, we were able to get so many great sides of you.  As a writer, with your cats, in your neighborhood.  Your spirit just radiated through.  I love chatting with my clients, I find that the more I learn about them, they are more relacx
 
Do you have any mantras? It sounds a tad woo-woo, I know, but sometimes writers have pat phrases we invoke when we need to work through writer's block, a difficult scene or plot point etc.
Well, when I want to get someone a little loosened up, or if I'm feeling a little low energy… sometimes I'll surprise us both with a little "F— yeah"  (feel free not to print that but it helps).  🙂
 
What should someone look for in a photographer, be it for a publicity photo or say, a family portrait or wedding? Can you share some tips as well as red flags?
When you're looking for a photographer, it's cliche but a picture can tell 1,000 words.  In this case, literally.  Go to their sites, see what they've been doing.  Most photographers has a few specialties- if you see shots that you'd like, be if for your wedding, a birthday party or product shots, does the photographer have pics like what you need on their site?  If their headshots are still in black and white, move on.  If they only have 1 client and that client is posed with sexy clothes, that photographer might not be the person to shoot your childrens back-to-school shots!
 
In addition to photography, you have a background in theater arts and have worked professionally as an actor in LA doing sketch comedy, improv as well as commercials. You just finished stage managing a play here in New York City, I hear. Tell us a bit about your "other" life.
Theater has always been a passion of mine and I was very lucky to work for 8 years in LA working as an actor, in addition to starting my photography business.  I am looking forward to getting back to the improv world here in New York.  If you want to see some of my acting work, you can check out my reel at www.youtube.com/bizurban08.  Right before I left LA I shot a fun Dominos commercial that took place in Gotham City, a webisode series called Road to Altar starring Jaleel White (oh yes, Urkel) and a indie comedy The Burbank Playas Present: Manipede!  It was fun! But I'm so happy to be in this incredible city and work with so many people through my photography… especially brilliant writers like Hope Tarr!!
Thanks so much for taking time out to chat on my blog, Biz, and best of luck with your exciting projects and ventures.
Thank you, Hope, it was my pleasure!!!