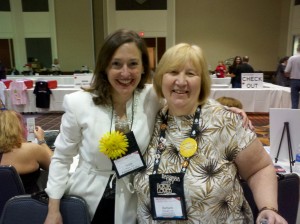 This past week was rather…full. Or better yet, replete with lots of great opportunities to meet and interact with fellow writers and readers in both Milwaukee and Chicago.
Kicking off the fun fest was PW blogger Barbara Vey with her first Annual Readers' Appreciation Luncheon in Oak Creek, Wisconsin, a suburb of Milwaukee. More than 200 readers and 38 authors including Cathy Maxwell, Roxanne St. Claire and Yours Truly congregated at the Oak Creek Community Center for a lovely catered luncheon. Heather Graham gave the fun keynote talk, regaling us with true tales far stranger than any fiction.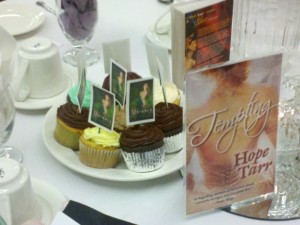 More than 38 author-donated raffle and door prizes were awarded including my "Tote of Tempting Treats" filled with an ARC of the Tempting audiobook and other goodies. Lastly, the guest authors signed our for sale books. Didn't make it this year? No worries. Barbara's already set the date for next year's luncheon: April 27, 2013, location TBA. Indeed the sell-out event was so successful that next year's will require an even larger venue. Way to go, Barbara!
Then it was off to Naperville, a Chicago suburb, for my guest reading at our satellite Salon, Lady Jane's Salon Naperville. Founded by romance authors Tracey Devlyn and Adrienne Giordano in February 2012, the Salon is held every other month in the loft of Le Chocolat, a lovely local chocolate patisserie and coffee bar in downtown Naperville.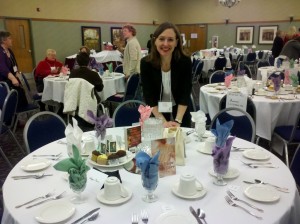 Just a few months' old, the Salon already boasts a robust following of romance readers and writers. The April 10th event hosted five guest authors: Laurie London, Traci Hall, Tracey Devlyn (reading her romance debut, A Lady's Revenge, Book #1 in the Nexus series), Cherry Adair, and yes, me, reading from Tempting. To learn more about the Naperville satellite and "Celebrate Differences," the recipient charity, visit their website.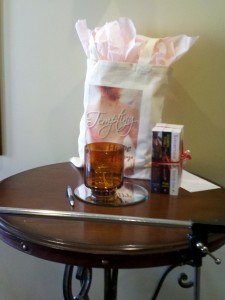 Last but in no way least came the RT BOOKLovers Convention. Highlights of the con included the Thursday E-Book & Graphic Novel Expo, workshops and panel talks by authors representing every Shade of Gray (so to speak) of romantic fiction, a mind boggling array of theme parties and costume events, and of course the renowned giganormous Saturday Book Fair, open to the public as well as convention attendees.
But there is indeed no place like home. After a week of glamor–or at least makeup, "real" clothes, and daily hair washings–I returned home to New York on Sunday evening pleasantly weary and wonderfully… replete, happy and blessed to be back to this writing life of sweat clothes' wearing and copious cat cuddling and sitting down every day to write the books of my heart.