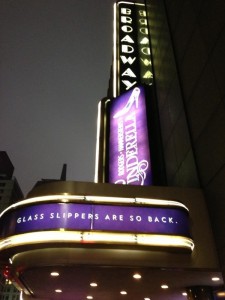 For Christmas, my boyfriend surprised me with two tickets to see Rodgers & Hammerstein's Cinderella on Broadway. It was such a great gift! Along with loving all things to do with the fairytale, I have fond childhood memories of watching the annual televised broadcast of the Rodgers & Hammerstein musical with a very young, very lovely Leslie Ann Warren in the title role.
Last night I took a break from working on revisions for Project Cinderella to attend the performance at the Broadway Theater. The music, cast, costuming, and set design were all fabulous. In addition to cherished numbers such as "In My Own Little Corner," "Ten Minutes Ago," and "Do I Love You Because You're Beautiful" ((sigh)), there were some new-to-me songs that had been cut from the shortened TV version. There was also some updating of the storyline, notably Cinderella persuading the prince to permit democratic voting and then voting herself.
Cinderella as suffragette — why not? <g>
At the play's end and after the cast took its final bow, "Prince Topher" called a couple up on stage. The gentleman, a NYPD officer, had arranged in advance to propose to his long-term girlfriend onstage–and on bended knee, of course. That he did surrounded by a glittering cast and a rapt audience, including several friends holding up signs, "Will you marry me?"
It just goes to show that Happily Ever After beginnings aren't just the stuff of storybooks. They happen in Real Life, too!
Glass slippers are so back–indeed!
Hope