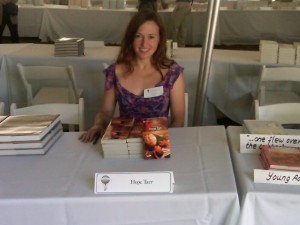 On Saturday I participated in the East Hampton Library's fifth annual Authors Night, a fundraiser for the library and its programs.
The weather was sublime, more like early spring than late summer. Seated beneath a massive tent set on the library lawn with the more than 150 other participating authors, I sipped wine and nibbled on tuna roll and sesame chicken, and of course signed copies of The Tutor.
Throughout I chatted with attendees, both readers and fellow authors, including romance writer, Barbara Metzger. And yes, I indulged in the occasional Fan Girl Moment with Alec Baldwin, the event's Founding Chair, Candace Bushnell, and Lois Stern, to name a few. And before the crowd grew too crazy, I had the pleasure of meeting a charming gentleman from New Orleans, Bryan Batt. Bryan, who portrays Salvatore Romano on AMC's wildly popular "Mad Men," was there to sign his new memoir, She Ain't Heavy. She's My Mother. As a latecomer but passionate devotee of the show, I was thrilled.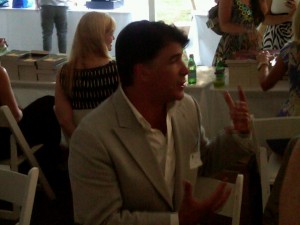 After the signing, my handsome date and I were treated to cocktails and dinner on the water front terrace of bestselling author and former Letterman writer, Jill Davis. Biographer Robert Caro, whom I first met at the Empire State Book Festival in Albany this spring, was the dinner's delightful guest of honor. Between bites of caviar dressed oysters, quail eggs, and tempura shrimp, we collectively picked Robert's brain for behind the scenes details on Robert Moses and Lyndon Johnson, the subjects of his seminal works, The Power Broker and The Years of Lyndon Johnson (multiple volumes). Witty, wise, and infinitely charming, Robert did not disappoint.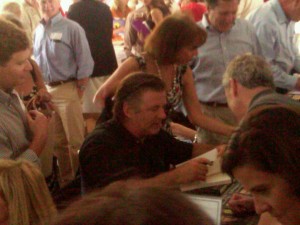 Alas, my Cinderella evening ended far too soon for all that it began at 4:30 PM and didn't end until well after midnight. Sunday morning began with an 8 AM eight-mile training run for the upcoming Hampton Marathon & Half, followed by a brief jaunt to the beach for a cool down wade. A quick shower, a hasty cup of coffee, and then it was on the road headed home to New York City and dare I say it, Real Life.
Now I'm back to work, plugging away on two new projects as well as promoting my newest release, A Rogue's Pleasure, out today with Carina Press, Harlequin's digital-first publishing imprint. Originally published with Berkley, the book has a beautiful new cover and a fresh new look overall, so if you didn't read the original print issue back in 2000, I hope you'll have a go at the e-book version.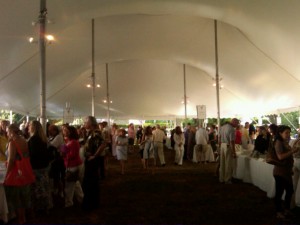 As for the East Hampton Library Authors Night, I've already begun the countdown to next year!