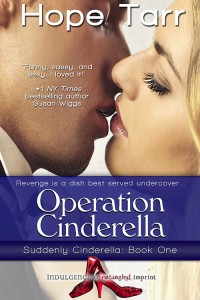 My Suddenly Cinderella Series launch, OPERATION CINDERELLA, is coming up on it's one month release milestone — woot!
To celebrate, and to thank all of you who are sharing the love for this book, I will give away three $25/each Amazon gift cards to three lucky winners!
There are several ways to enter:
Be my Fan on Facebook (extra easy entry)
Follow me on Twitter @HopeTarr
Tweet about the giveaway
Like the OPERATION CINDERELLA Book Page on Amazon
Share a review about OPERATION CINDERELLA on Amazon or Barnes & Noble!
To enter, just use the Rafflecopter Form below:
Hope