This year was my very first Halloween in the Big Apple, and I'm happy to report, it did not disappoint. I kicked off the day with a trip to Woodlawn Cemetery in the Bronx with my good writer buddy and Halloween enthusiast, Leanna Hieber. It was a gorgeous fall day, crisp but not cold. The colors were phenomenal, positively jewel-toned. Many of the monuments, notably the celebrated Woolworth tomb, include stained glass windows a la Tiffany, which were breathtaking to behold. Creepy though it may sound to some yes, we had a picnic. And yes, it was fun. I could say more but to save my typing fingers, check out Leanna's Blog for the truly awesome photos.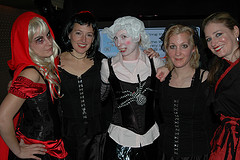 Then it was back to Manhattan for a quick transformation (note: not transfusion). First stop: the Halloween Parade with my fellow Goth fairytale femmes: Leanna, Stacey Agdern, and the Rebels of Romance, Liz Maverick and Marianne Mancusi. Re Leanna as Dead Little Miss Muffett, check out those choppers!
The parade, though slow moving, was well worth the wait. The piece de resistance for me: the skeleton puppets, hulking dudes operated by multiple human hands (at least I think they were human). We rounded out the evening with a post-parade party in Murray Hill hosted by our good friends at Pacific TV. Morgan and her hubby put us through our paces playing trivia games long past the Witching Hour. Note to Self: less book reading, more TV watching and PEOPLE Magazine perusing.
On Saturday night, I joined friends at the Metropolitan Museum of Art where rock legend Patti Smith celebrated All Saints Day with an evening of poetry reading and of course, music.  Afterward, it was dinner at Les Halles on Park Avenue South. For me, the steak au poivre with frittes and yes, Bearnaise sauce, thank you very much! Finally, home for a soothing cup of peppermint tea, a quick glance at the second half of SNL and then, yes, bed.
Even a party ghoul needs her beauty sleep.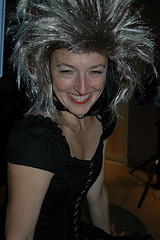 To paraphrase the remarkable Patti Smith: to all our saints, to the unsaintly saints, both living and dead.
Hope