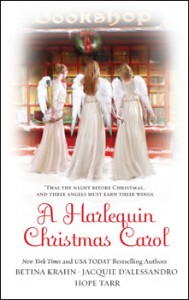 Okay, I'll admit it. Sometimes life…make that Life gets away from me, if not a lot than certainly more often than I'd like. September was one of those months. What with promoting my Beer Gardens NYC iPhone app, Lady Jane's Salon (October's Salon was awesome!) and prepping for the release of Tomorrow's Destiny in A HARLEQUIN CHRISTMAS CAROL a mere 30 days wasn't nearly enough.
Consider the above as the preamble to a confession. I forgot to pick a contest winner for September. My bad–literally!
In the spirit of "better late than never," belated but sincere congratulations to Marie E of Lathrop, CA, the winner of my September contest prize: a signed copy of my previous Christmas Scottish historical romance, Twelve Nights. As did many of you who entered, Marie correctly answered that in Tomorrow's Destiny/A Harlequin Christmas Carol, my heroine Fiona's eyes are green and blue.
For those who didn't win, I hope you'll take two two ticks to read the Sneak Peek of Tomorrow's Destiny/A HARLEQUIN CHRISTMAS CAROL (due out November 10th) and enter my current contest. But lest we rush the holidays, for now…
Happy Halloween Weekend!