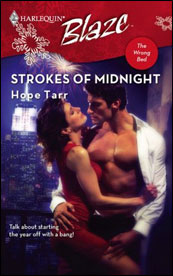 OK, so I was dutifully reading Google's new Privacy Policy Alert, an action clearly undertaken to avoid line edits on my Work in Progress, when I unearthed this blast from the past 2007 video interview on my then new book, STROKES OF MIDNIGHT.
The video, made by Pacific TV for the Romance Writers of America NYC Chapter, was shot back in 2007. Like the romance novelist heroine of STROKES OF MIDNIGHT, Becky Stone AKA Rebecca St. Claire, I too was coming to New York City with Big Dreams.
And like my fictional Becky, five years later, I'm happy to report that most of those Big Dreams have come true. So have some new ones.
As for those bangs, let's just say I'm glad it's 2012 in all kinds of ways. 🙂
STROKES OF MIDNIGHT is available as an e-book for Kindle and Nook users.