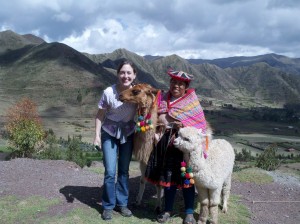 Some trips are just that, pleasant getaways. Others are "journeys." My recent twelve days in Peru definitely ranks among the latter.
Rather than see Peru through the window of a tour bus, I opted for a more active approach. After two days spent exploring the city of Cusco on my own, I joined up with a walking/hiking tour group operated by Country Walkers.
As I did with my April-May trip to Italy, I will be detailing my Peruvian adventures in a series of travel articles. I am also prominently detailing my Peruvian journey in my current nonfiction book. Details forthcoming…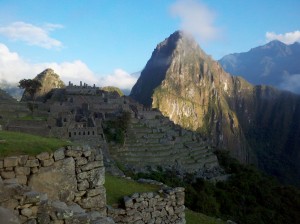 For now, the piece de resistance of the hiking portion of the trip was a two-day visit to the famous Inca City of Machu Picchu.
Built in the 1450's, the Golden Age of the Inca Empire, Machu Picchu is especially popular as a tourist destination this year, 2011, which marks the 100th anniversary of its (re)discovery by explorer, Hiram Bingham.
I say rediscovery because Machu Picchu was never the "lost city" that Bingham made it out to be. Nor was it attacked by the invading Spanish as were most other Inca cities. The site, while badly overgrown, remained intact and well known to the local Andean people throughout the centuries. Two Andean families occupied a portion of the ruins when Bingham first made his appearance in 1911. The young son of one family served as one of his guides.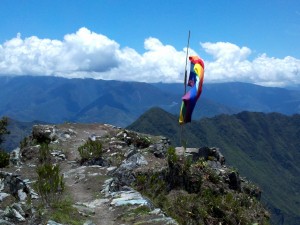 To preserve the main Inca trail leading into the site, the Peruvian government strictly limits the number of park passes issued per day. Because I booked late, the allotted number of Inca Trail permits had already been distributed to my group. Instead, I hiked Machu Picchu Mountain alone with a local guide, then rejoined my group later that afternoon at The Gate of the Sun.
The 2,000 foot climb up Machu Picchu Mountain took me to 10,300 feet. Fortunately I'd been hiking for almost a week and was well acclimated to the altitude. The topography of the trail presented the real challenge. A more or less 90 degree straight shot up, it also involved navigating jagged granite "steps." As I wound my way up to the summit, the path narrowed to a shelf of just about sixteen to eighteen inches wide. Sheer drops greeted me on one, sometimes both sides. For nearly forty-five minutes, my reality reduced to one carefully placed footstep after another.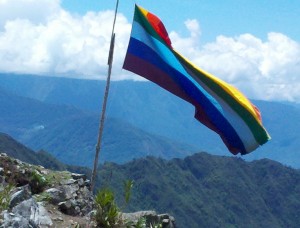 It was a crash course for living in the moment.
Despite a lifelong fear of heights, I made it to the top–and that coveted flagpole–in two hours, not too shabby for a city girl.
Then of course, there was the coming down. 🙂
The next day I enjoyed exploring the main park site with my group. We began with an early morning (AKA crack o' dawn) gathering inside the park. Several of us took turns reading from a book of poems on Machu Picchu by Peruvian poet, Pablo Neruda . It was a deeply moving, deeply spiritual set of moments.
Now I'm back in the Big Apple. Amidst the happy chaos of catching up, I'm taking time to hold onto all the wonderful lessons my journey to Peru and back has taught me. Until next time…
Hope