My fellow Harlequin author, Geri Krotow's World War II set category romance novel, A Rendezvous to Remember, may be sitting on the presidential night stand "as we speak."
The recipient of said signed book is Michelle, not Barack, though he definitely gave it a thumbing through. "This looks sexy," he said.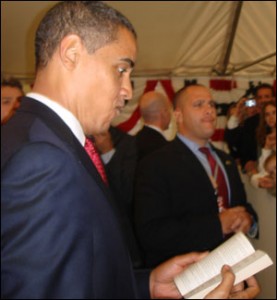 Not only is the First Lady making The White House a waddle-free zone for the first time in fah-ev-ah–or at least since Jackie Kennedy's day–but apparently she's making the Free World safe for yes, popular fiction.
For the juicy rest of the story, including more photos, read Wax Creative founder, Emily Cotler's report for The Huff Po.
Hope