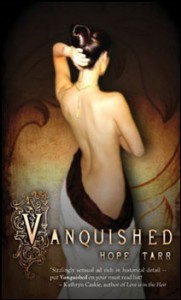 There may or may not be "no such thing as a free lunch," but I'm happy to report that a free book is still occasionally possible.
From Monday, September 12th through Monday, September 26th, VANQUISHED (the launch to my "Men of Roxbury House" trilogy) is available as a free e-book. Across all platforms!
Whether you're an Amazon Kindle user or a fan of the Barnes & Noble Nook or other e-reader platform, you have two solid weeks to download VANQUISHED. For free.
Obviously my hope is that VANQUISHED will act as a gateway drug to downloading the other two trilogy books, ENSLAVED and UNTAMED but certainly there's no obligation to do so.
Thanks to my wonderful publisher, Medallion Press, for making this offer possible and thereby putting my beloved book in new readers' hands.
Happy e-Reading,
Hope