I am absolutely over the moon to present the cover of IRISH EYES (12.7.23), my new historical novel and the launch of my American Songbook series! Double yay, the book is available for preorder worldwide as an ebook and trade paperback!!! (The audiobook also will release on December 7). For a quick and (hopefully) fun primer on why preordering an author's book matters, check out my post on Substack.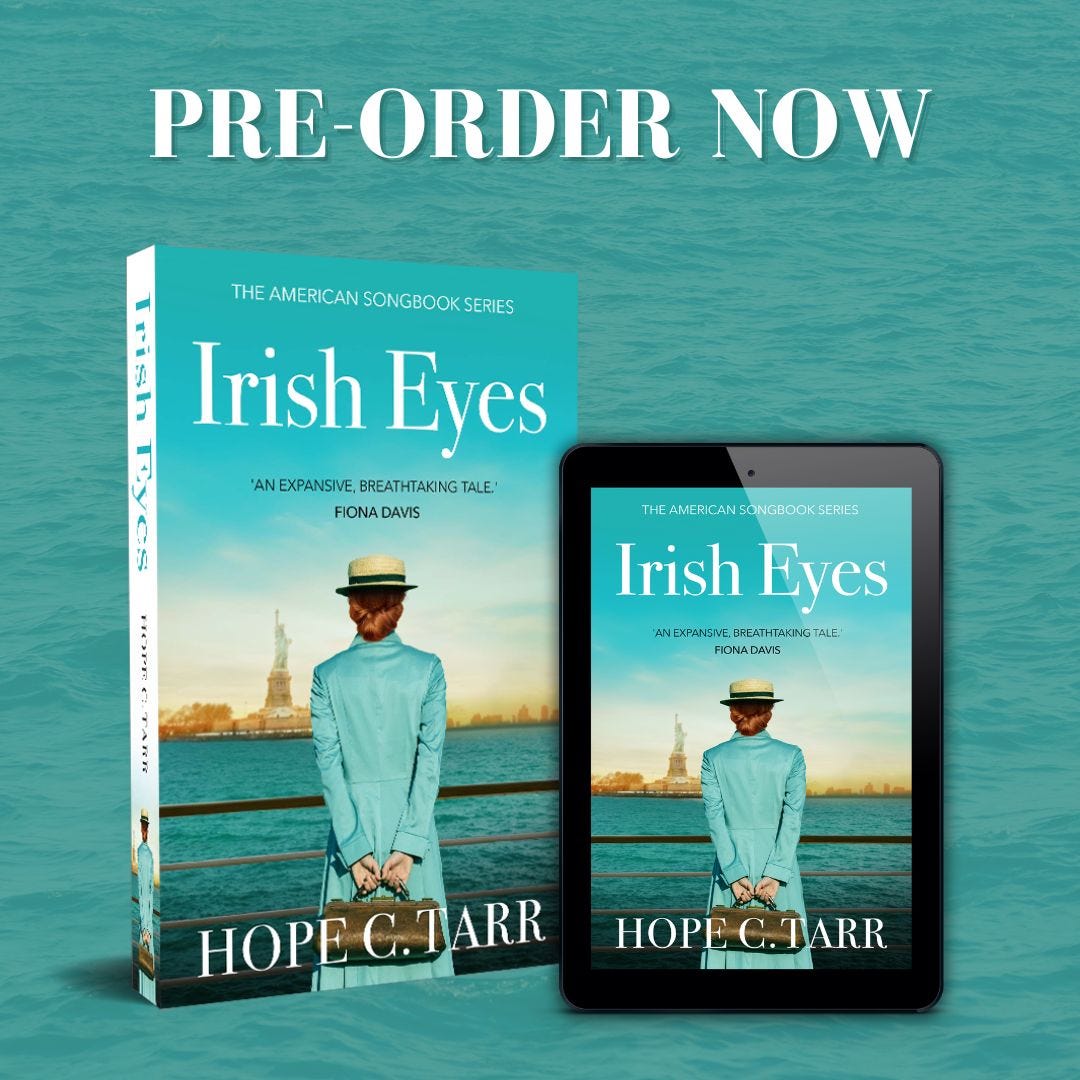 The Story Behind the Story
Irish Eyes is very much a love note to my Irish ancestors, who came to America on the coffin ships at the height of the Great Hunger (1845 – 1852). For years, I batted around the idea of writing something with an Irish protagonist but back-to-back projects left me with little headspace to pin down what that story might be.
Then, on a hiking trip through Western Ireland in 2009, I stopped at the famed Cliffs of Moher, gazed across Galway Bay to the trio of islands known as The Arans—and Rose O'Neill's story began taking sharp shape in my mind's eye. Back in Manhattan, runs along the Hudson River looking out to Ellis Island and Lady Liberty helped me to further flush out Rose's story.
I wouldn't start writing the book for several more years, but eventually I did and here we are.
December 1898. In the aftermath of America's war with Spain, eighteen-year-old Rose O'Neill leaves her beloved Arans and boards a steamer for New York City. Herded through the emigrant landing depot at The Battery, abandoned and alone, she soon discovers that the New York streets are no more paved in gold than those of Galway. To survive, she must ford her way through Lower East Side tenements and sweatshops, Fifth Avenue mansions and tony hotels – tangling with the mighty Tammany Hall for the husband with whom her fate is inextricably linked while fighting her feelings for the first love who still holds her heart. Just as she begins to make peace with the past, the Great War erupts in Europe, threatening to topple the dynasty for which she has sacrificed so much.
I'll leave you with this beautiful book trailer courtesy of my fab publisher, Lume Books.