In case you haven't noticed how quiet this blog has been, I'll admit it. My gadfly wings have been seriously clipped by the need to get some honest to goodness writing done. Still, you know what they say about all work and no play…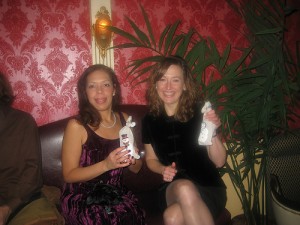 Fortunately I took time out to attend The Rebels of Romance holiday party at The Dove Parlour in the West Village. In addition to the co-hostesses, Liz Maverick and Marianne Mancusi, all the usual suspects turned out including Dorchester author Leanna Hieber, her editor, Chris Keesler, and Scandalous Women blogger extraordinaire, Elizabeth Kerri Mahon (AKA "EKM"). The Dove, which has appeared previously in this blog, is one of my favorite Manhattan venues–Victorian brothel meets Manhattan "secret" bar with cocktails like the Cherry Tart and, for the season, mulled wine. Then again, the holidays aren't about a great venue or fab fashion wear though yeppers, everybody was certainly stylin'. Holidays are about spending time with the people (and pets!) we care about who care about us and remembering to be thankful for them as well as all the other blessings in our lives.
Per the pets, please don't forget my Holiday Goodness Challenge. We've had several takers so far, but I still have copies of Vanquished to give out. Beyond that, homeless dogs and cats need our help this holiday season more than ever.
Whether you celebrate Christmas, Hannukah, Kwanza, or the Solstice…
Happy, happy & Merry, merry…
Hope