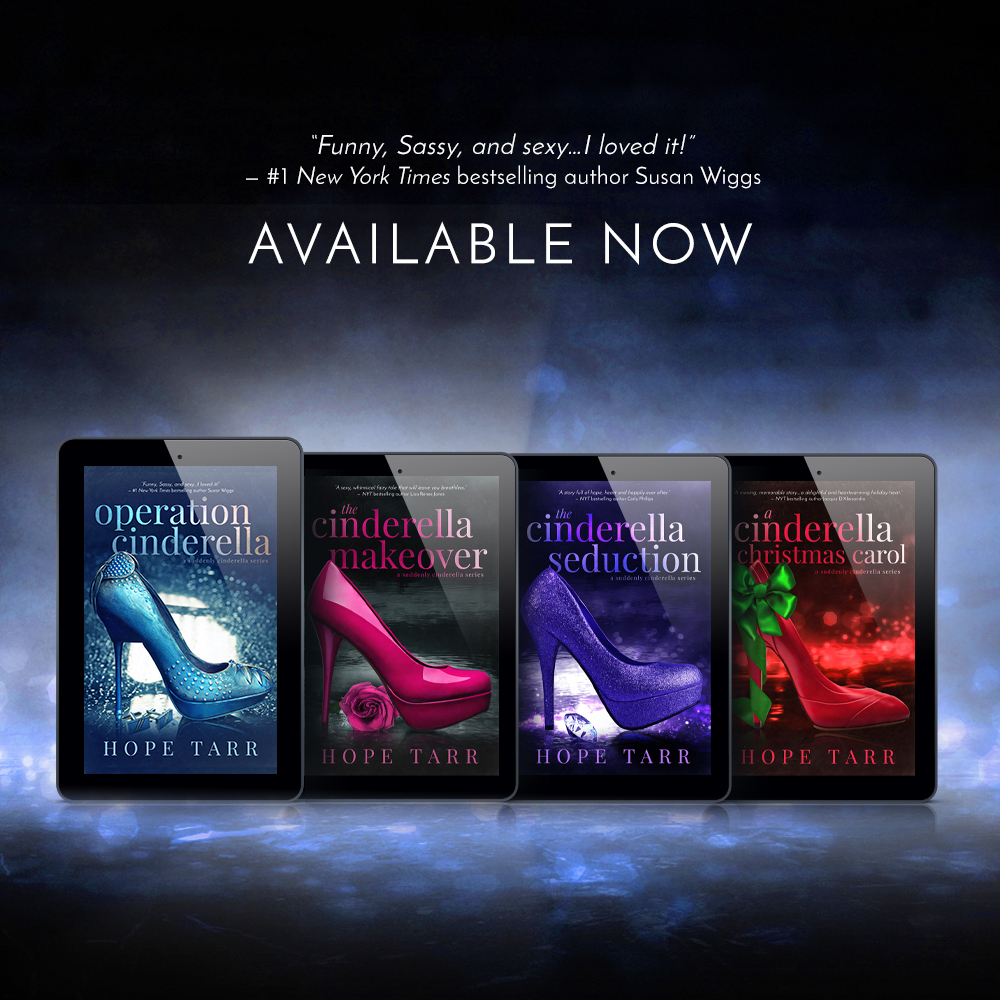 My Suddenly Cinderella series focused on four BFFs (Macie, Francesca, Stefanie and Starr) who find their romantic soulmates through sharing a pair of (possibly magical) vintage high heeled shoes first owned by a 1930's Hollywood starlet has a fresh new look! If you haven't yet, check out these fun, feel-good stories on Amazon, Nook, iBooks, Kobo, Google and elsewhere e-books are sold.
Reader Praise:
Cindy F on Operation Cinderella:
I loved every character in this book. They were hysterical and so outrageous at times. Even little Samantha had me bursting out in laughter at times. Oh how trying some teenagers can be. 😉 There were also a lot of heart-warming moments throughout this story, that just melted my heart. After reading that intriguing epilogue, I can't wait to read the next story.
Miranda Owen on The Cinderella Makeover:
The backdrop of this book is a reality TV show called Project Cinderella in which geeky contestants are made over by a "fairy godmother". Before meeting up again through the TV show boy genius CEO Greg Knickerbocker & fashion guru Francesca St. James first meet when Francesca goes to get a photograph for a magazine feature on Greg. Things do not go well. Greg views Francesca as attractive but pushy and intrusive. Francesca feels Greg is arrogant and a jerk. Fast forward a bit and Francesca has a job as a "fairy godmother" on a reality show, coaching contestants to turn from geek to chic. Greg entered the contest because even though he has tons of money, he is lonely and looking for that special someone. After reading Greg's first interaction with Francesca, I was very surprised that he would go on a show like that, especially for the reasons he has. It suggests a vulnerability and romantic side that was not apparent at first. Francesca reveals hidden depths as well after learning of her relationship with her daughter. I truly enjoyed reading about how Greg and Francesca's opinion of each other changes the more they get to know each other and watching their relationship grow. I thought this romance was sweet, sexy & I liked the characters. This is the first book I've read by this author but I will try others.
Rosemary on The Cinderella Seduction:
Stefanie Stefanopoulos wants to help her father with his financial problems. She feels guilty. Her former fiancée swindled him out of $3 million dollars. Now how will he repay the money loaned to his company by Costas International. Nikolaos Costas has come to town to collect this debt. Stefanie's stepsisters are always in the spotlight, but her father wants her to distract the CEO until he gets his fiancés in order. Now it is her turn to be Cinderella and enjoy this handsome man's attention. After all she has magic shoes to help her capture the heart of this notorious playboy. Will she get the man of her dreams? Hope Tarr has written a very romantic love story filled with humor and happiness. Stefanie is a beautiful and honorable woman who just now realizes the power of love. Nikolaos is an Alpha male who just found his love child and has learned to love someone more than himself. This book makes me smile. It's fast paced, funny and has a touch of magic. A perfect afternoon escape.
Melody May on A Cinderella Christmas Carol:
Cinderella Meets Scrooge.
A Cinderella Christmas Carol is without a doubt a fun twist on a Christmas Classic. Cynthia Starling (Starr) would definitely fit the part of Scrooge, yet she probably doesn't see herself that way. With the help of a spirit guide who is in the image of Matt Landry, who is drool-worthy. Starr and "Matt" go on a merry adventure to see if Starr can have a change of heart…