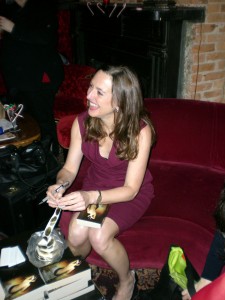 I'm so, so, so excited!!!
This Tuesday, July 21st 7-9:30pm at Madame X, we at Lady Jane's Salon® will welcome the 35th annual Romance Writers of America® national conference back to New York City. I say "back" because we've helped kick off the conference before, in 2011. Then we drew more than 125 attendees, including surprise guest, Eloisa James, and Emmy Award winning documentary filmmaker, Laurie Kahn. Laurie and her crew from Blueberry Hill Productions filmed the Salon for her "Love Between the Covers" feature-length documentary film on the romance community. Check out the (less than four minute) footage from that crazy-fun night here.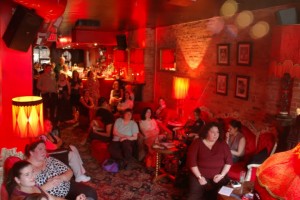 But there's more…
Along with co-hosting the event, I'll be reading a never before released sneak peek from  Irish Eyes, my very first foray into Women's Historical Fiction. Set in Gilded Age through Jazz Age New York City, the manuscript has been a true Labor of Love. I can't wait to share the first chapter with everyone!
Or to help roll out our stellar lineup of guests: Sonali Dev, Dahlia Adler, Carrie Lomax, Laura K. Curtis, Nancy Scanlon, and Regina Kyle. The service staff at our ever fab venue, Madame X, stands at the ready to serve with $5-$6 drink specials (including super yummy "mocktails"). We also have terrific raffle prizes donated by some of the romance industry's brightest established and rising stars.
Best of all, your $5 admission supports our annual donation to our house charity, Win, helping real-life NYC families find their own Happily Ever After. It doesn't get any better than that. If you're in town for #RWA15 or simply in town, please plan to be our guest!