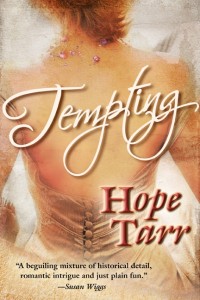 Anyone who's read my romance novels, historical or contemporary likely knows how I adore second chance at love stories. The opportunity to get things right the second time around, what's not to love?
First published by Berkley/Jove in 2002, TEMPTING was nominated for a RT BOOK Reviews Award for Best Unusual Historical and was featured on NBC's Today Show. I also received a lovely cover quote from Susan Wiggs, one of my favorite authors. It was…quite a year!
It is with the greatest pleasure that I release the "new and improved" digital-first version of TEMPTING. I say "new and improved" because I've had the leisure—and additional decade of writing experience—to edit the book so that it more closely reflects what I always meant for it to be.
The book of my heart.
To celebrate February as the host month for Valentine's, and to thank my readers for more than a decade of loving support, I am offering TEMPTING for just 99 cents now through February 29th. The book is available for purchase on Kindle, Smashwords and All Romance Ebooks (ARe). (Nook version coming soon!)
I hope you enjoy TEMPTING, Christine Tremayne and Simon Belleville's unusual love story. Please look for their very special cameo appearance in VANQUISHED, the first in my Men of Roxbury House Victorian-set trilogy. For now…
Happy Month of Hearts & Flowers,
Hope