Last night's Lady Jane's Salon was uber fab. I know I say that every month but that's only because it's true.
Smart Bitches, Trashy Books blogger, Sara Wendell is well, one smart b—- as well as a total hoot, the perfect guest emcee. And bonus: she read aloud from her book, Beyond Heaving Bosoms: The Smart Bitches' Guide to Romance Novels, waxing eloquent on, among other topics, sexually impossible positions.
Memo to Sarah: you had us at "turgid boner."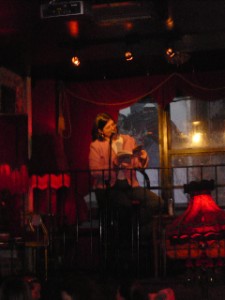 A round of belly laughs, not to mention an anatomy lesson was enjoyed by all.
Our guest author readers were Alisa Sheckley/Kwitney and Lady Jane co-founder Maya Rodale. Alisa read from her latest paranormal, The Better to Hold You set here in the Big Apple. Warewolves on the Upper West Side, oh my! And just when I was convinced cab drivers and pizza delivery guys were the main urban predators.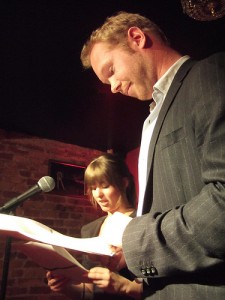 Maya read a very sexy scene from The Rogue and the Rival with the help of her "EBF" i.e., English Boyfriend, Tony. Together they rocked the house–and steamed up the windows.
Memo to Maya and Tony:Â next time how's about adding some pantomime, hmm?
Last but never least, the
Romantic Times BookReviews
folks were once more out covering the event for the magazine's blog. Thanks to Managing Editor Liz French and Web Manager, Rob DiCaterino for the incredible support! (In point, most of these pics come courtesy of Rob's shutterbugging).
As for Yours Truly, last night was the perfect antidote to the Deadline Blues.
Otherwise, the stats stay the same: First Monday of the Month (May 4th), 7-9 chez Madame X. May is also the host month for Book Expo America America, so we'll be packing in the out-of-towners as well! Hopefully that'll include…YOU!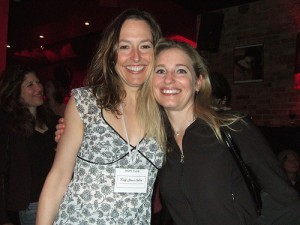 Hope