This August 18th marked the centennial of ratification of the 19th Amendment to the Constitution "granting" women the right to vote. The quotes are intentional. Women weren't granted the ballot – we TOOK it, after 70+ years of strife, sacrifice and single-minded dedication, all while maintaining marriages, raising children–and sometimes falling in love.
To put a human face on this epic struggle, I've written about the little known love story of two powerhouse suffragist leaders: "Carrie Chapman Catt and Mary Garrett Hay, The Boston Marriage that Won the Vote for U.S. Women." Read the article for FREE on Medium by clicking on this link. Below is a taste:
When president of the National American Woman Suffrage Association, Carrie Chapman Catt (1859–1947) first clapped eyes on Mary "Mollie" Garrett Hay (1857–1928), president of the New York Equal Suffrage League, in 1895, Carrie was five years' married to her second husband, George Catt. Soon after George's death in 1905, Carrie would make her home with Mollie. The women would share a common cause and a roof for the next thirty years. As fellow activist Maud Wood Park remarked, "Mrs. Catt was essentially a statesman; Miss Hay, a politician, and together they were, in most cases, invincible."[i]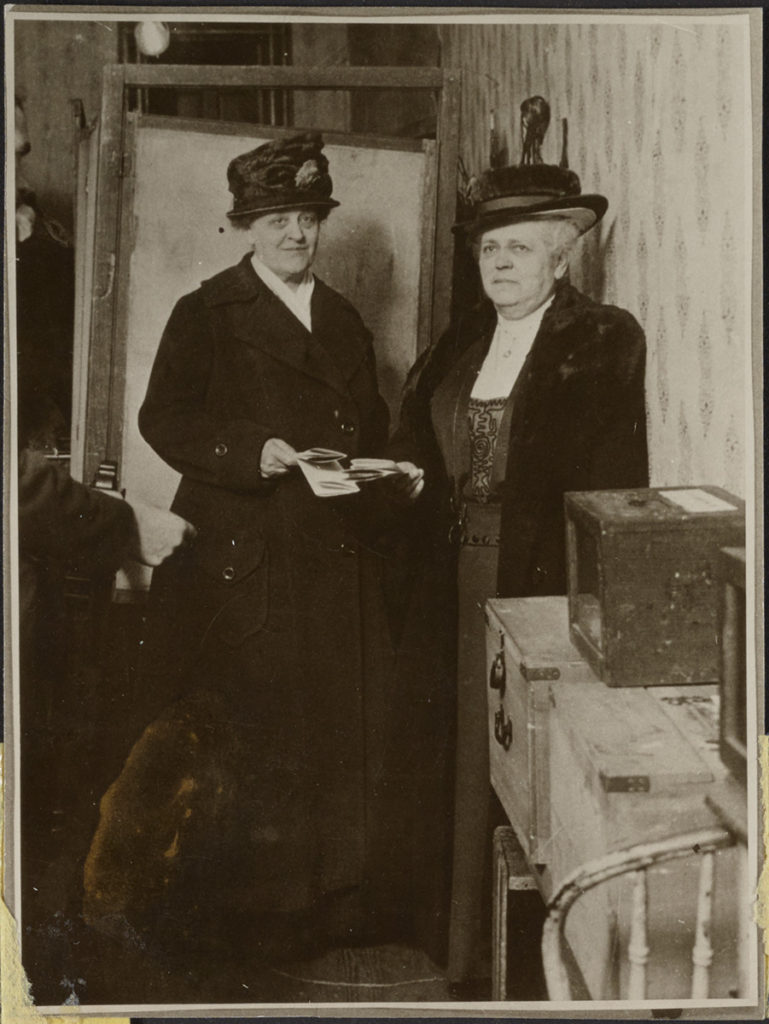 A Dream Team
Carrie and Mollie first met in 1895 while attending the NAWSA convention on January 31 to February 5 in Atlanta.[ii] It seems to have been lust at first sight, their courtship the very opposite of a slow burn. That summer, while Carrie's civil engineer husband, George was away on business, Mollie moved in with Carrie at the Catt apartment[iii] at Osborne Apartment House, №26 West 57th Street. As noted by Mary Peck, Carrie's official biographer, that summer was the beginning of the "intimate collaboration which united them for many years."[iv]
George's return spelled the end of Carrie's and Mollie's idyll.[v] What he thought of his wife's suffrage partner and new bestie remains unclear. Perhaps tellingly, in January 1896, he took time off work to accompany Carrie to the annual NAWSA convention in Washington, DC, where he addressed the assembly on "Utah's Victory the Result of Organization; Its Lesson." In calling George to the podium, President Susan B. Anthony said, "It gives me pleasure to introduce Mr. Carrie Chapman Catt… I mean, Mr. George W. Catt."[vi]
If George's attendance was an attempt to win back his wife, it was not to be. Throughout the late 1890s, Mollie and Carrie continued to work and travel together, with Mollie acknowledged within the movement as Carrie's special friend and companion. In 1899, the women visited twenty states, attended fifteen conventions and made fifty-one speeches, a grueling tour de force that covered thirteen thousand miles.[vii]
Undoubtedly, Carrie was the shiny penny of the pair, fawned over by both male and female reporters, one of whom described her as "…a tall, handsome woman with brown hair and blue gray eyes and a gentle yet strong face."[viii] A gifted orator, she projected her magnetism into a crowded lecture hall with the same easy grace she brought to an intimate at-home in her own parlor.
But Mollie was no shrinking violet. A crack fundraiser and dealmaker, Mollie possessed enormous powers of persuasion, a steady determination we today might call "soft power." Decatur Herald reporter Lillian Gray extolled Mollie's calm, easy nature and winning ways.
"Others may lose their heads or tempers or fly off on a wild goose chase; she never does. She is a woman with prematurely white hair like a glory round her head, with sparkling dark eyes, flashing white teeth and a merry smile. You will not find a brighter, handsomer, more wholesome woman in a journey across this continent, that journey Mary Garrett Hay herself has taken so many times in the interest of her sex. She has a strong, sincere, energetic voice, the voice of a woman who can make things hum."[xi]
Not everyone was a fan…
Read the rest on Medium – you do NOT have to be a subscriber to do so. And please be sure to leave a "Clap" before you go.

Onward/upward,
Hope