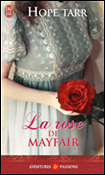 July 14th is Bastille Day, the day set aside for celebrating French independence, or the day Parisians stormed The Bastille, that bastion of l'Ancien Regime. No more Lettres de Cachet, no more near feudal era serfdom, no more aristocrats hoarding all the good food and wine.
I'll be lifting a glass of champers to my happy place of Paris later today as well as to J'ai lu, my Paris-based publisher of La Rose de Mayfair.
Wherever you are, enjoy!
A la prochaine,
Hope